Finyal Media launches Finyal+ on Apple Podcasts
Finyal Media, a regional podcast network that focuses on storytelling podcasts across MENA, has created an exclusive subscription service, Finyal+, available globally as of 15th June.
The new Finyal+ service will allow for an ad-free listening experience. The service will also provide new episodes of seasons up front so listeners can binge full seasons of their favourite podcast shows without having to wait for new episodes to launch. Throughout the year, Finyal+ will be creating brand new shows for subscribers that can't be found on any other platform.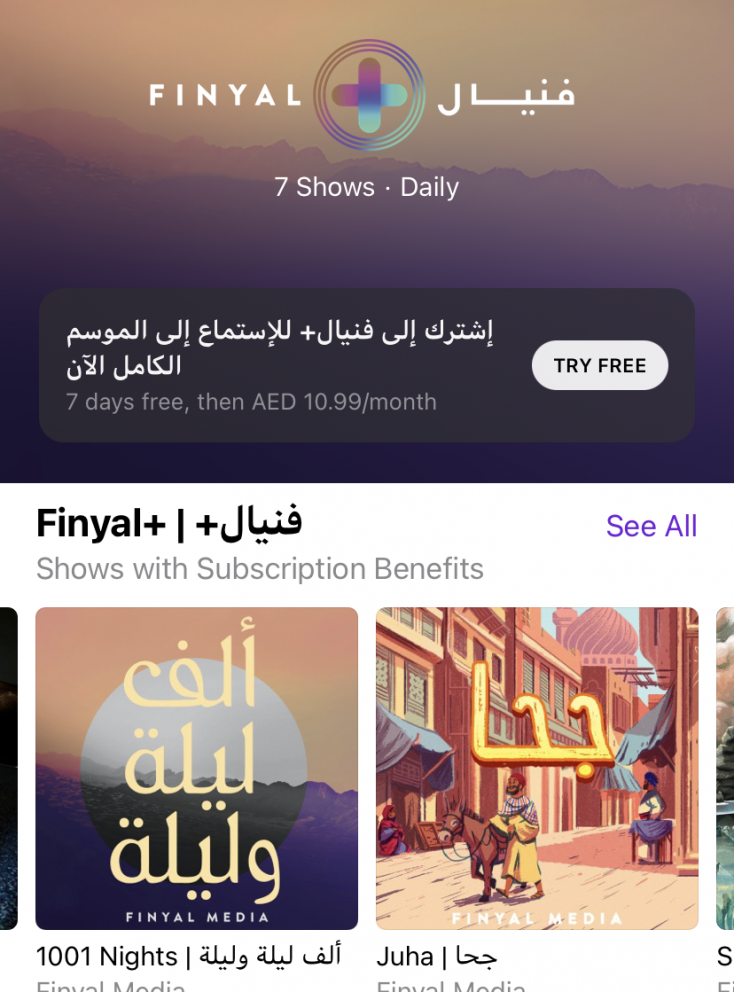 "We're delighted to launch the new Finyal+ channel with Apple Podcasts Subscriptions and look forward to our podcast fans having the opportunity to enhance their listening experience with us. We know our listeners love to binge our shows and we continue to receive messages from fans asking when the next episode is coming out. With that in mind, we decided to create Finyal+ to give our listeners the opportunity to gain early access to a full season of content in one go, so that they can listen at their leisure, early and uninterrupted. Rather than taking away any of our content from existing platforms, we want to give our listeners the choice as to what kind of listening experience they want from their podcasts," said Leila Hamadeh, Co-Founder and CEO of Finyal Media.
The catalogue of shows currently includes seven of Finyal Media's most popular programmes. Subscribers can expect a library of first class shows including 1001 Nights, Juha, Sindbad, The Basement, Alsilah, The 40 Thieves, Ismi, as well as a host of new shows which will coming soon to the channel including new sci-fi series The Code.
Recently, Finyal Media partnered with MIS to provide podcast solutions for brands in the region.
For the original article, please visit: https://www.digitalstudiome.com/broadcast/delivery-transmission/37125-finyal-media-launches-finyal-on-apple-podcasts